With over 20 years involved with Education and Instructional Design, we can help you take your existing face to face course and convert this into responsive, dynamic and pedagogically sound content.
Converting face to face learning into elearning is not just a matter of placing your existing resources online, this just creates an electronic version of existing content, this method is know to produce the least engaging method of online learning. We are experienced in Learning Theory and Instructional Design, using ADDIE, Gagnes, Blooms Taxonomy among others, helping us to create dynamic, responsive, adaptive and meaningful online learning provision.
Storyboarding
Structure your course using sound pedagogy to facilitate the best possible learning.
Scenarios
Create scenario based learning, elicit real live context and encourage application of knowledge.
Content
Transcribe your text based script into visual, media rich, interactive elements.
Assessment
Create appropriate assessment methods to capture depth of learning based against objectives.
Activities
Design activities to complement your learning objectives and make a course dynamic.
Adaptive
Design content that takes into account learning styles, making the course adaptive to requirements.
Level 1 (Basic)
Referred to as level 1 e-learning as the "click next" style of e-learning. Very low amounts of interactivity (i.e., clicking the Next button is as interactive as it typically gets) and there is a lot of static text and images.
Level 1 quizzes are usually basic multiple-choice and true-or-false questions.
Level 1 e-learning, while basic, does have its place: it can be a quick and inexpensive way to cover simple rules or procedures.
Level 2 (Intermediate)
e-Learning at Level 2 start to have richer multimedia. Courses at this level can contain some audio and video, as well as some basic animations and transitions.
This level of content is also often accompanied by narration and activities such as "click and reveal" interactions.
Typical level 2 quizzes are drag-and-drops and matching activities.
Level 3 (Complex)
Level 3 courses become quite sophisticated, creating a more complex and interactive learning experience.
Level 3 can include extensive use of audio, video, transitions, animations, simulations, and more.
Quizzing could involve branched, scenario-based questions that allow a learner to explore multiple paths and feedback levels.
Level 3 e-learning is often developed for more advanced training, such as flight simulation or medical training.
Examples of our eLearning content creation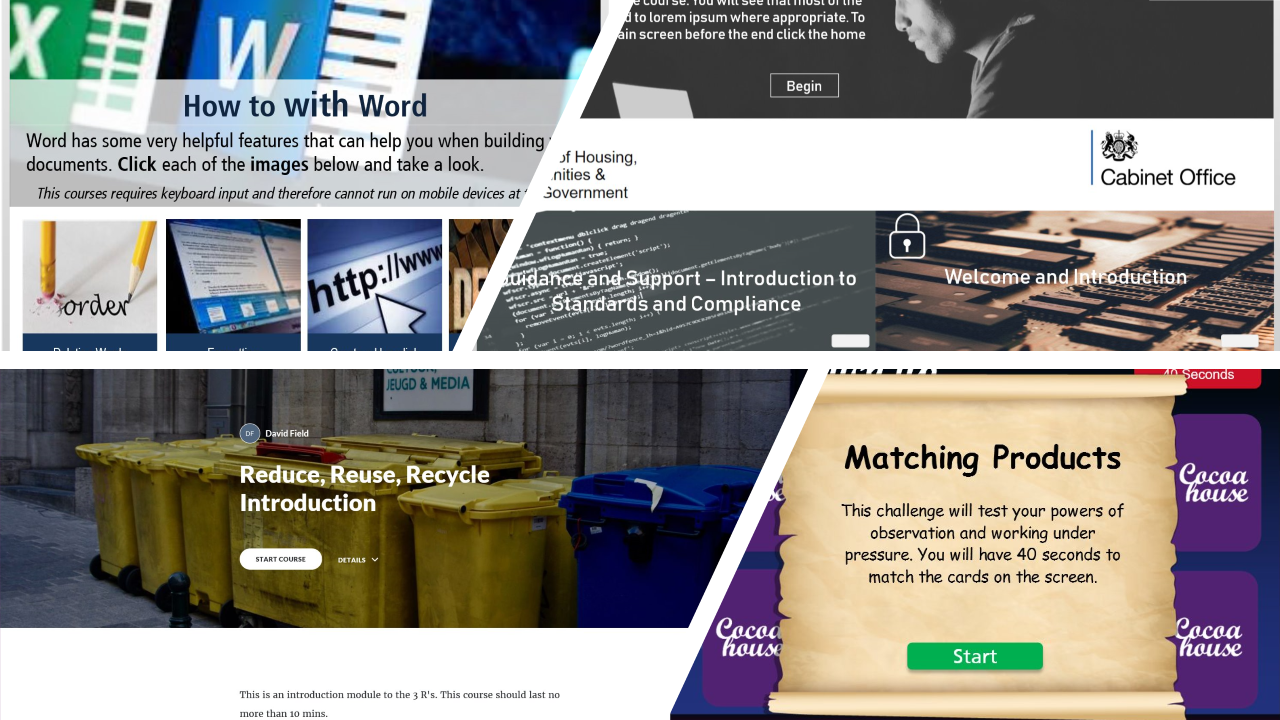 Working with Word (Author David Fields)
Micro-Learning (Created in Evolve)
How to Rent (Created in Evolve)
Observation Practice (Created with Articulate Rise)
Changing Places A Level Geography (Created in Evolve)
Barber Induction Training (Articulate Storyline)
This is an example of H5P Image Blender
Educational Chatbots
Artificial Intelligence Virtual Education Assistant. We can create Educational Chatbots to help extend learning options.
Learn through Chatbots
Enhance Student Engagement
Act as a Teaching Assistant
Provide Support to FAQ's