Education
We have experience working with Education Establishments, including Sixth Form Colleges, Technical Colleges and Arts Colleges. Created for Education by Educators
Training Providers
We have worked extensively with Training Providers, from Teacher Training provision to Languages Schools and Corporate Training.
Individuals
We happy to work with Individuals, many having a desire to pass on their knowledge, and make extra money by running their own online courses, for example Teachers, Rental, Finance and Mental Health Services.
Winstanley College, Moodle
Case Study
Further Education College 2015/2016
Stage 1 Approached directly via Further Education College 2015 initially to do Moodle training with staff consisted of one morning and one afternoon session, 15 staff in each session. This was to review what is moodle, and basic functions and use of Moodle in a Further Education establishment. Moodle training booklet create and bespoke to the College needs. Stage 2 Initial Research Consultation and initial research. Formulation of Action Plan and implementation strategy. Outline of themes and concept of Gold, Silver, Bronze Awards. Design of Template Research of  and recommendation on the "Best Design and Development" of Moodle Course Content Upgrade of Moodle to 3.0 Upgrade and modification of current Moodle Installation at the College (2.6) to Moodle 3.0, the most current stable version available at time of installation. This work completed by E-TeachUK Ltd and development partner (SemiDot Infotech PVL). With Standard Theme Design and development of New standard theme, College Log, Social Media links, Course area set up, front end design using existing Themes eg Hoxa, Lambda, Oliver…decided in consultation with the College. Addition of Functionality and Plugins E-TeachUK, researched the requirements of the College staff  in terms of additional functionality, recommended and then implemented the addition of several Plugins.These included…
Staff Survey/Report Completion of Online Staff Survey (using Google Documents) to establish a base level of staff current competency and relate this to the intended Gold Silver Bronze scheme. Training of 30+ Staff members The Training of staff in small group and one to one sessions. Guidance to achieve the required level of competency for individual staff, all to achieve at least Bronze Level by June 2016.
Corporate Training Company, WordPress LMS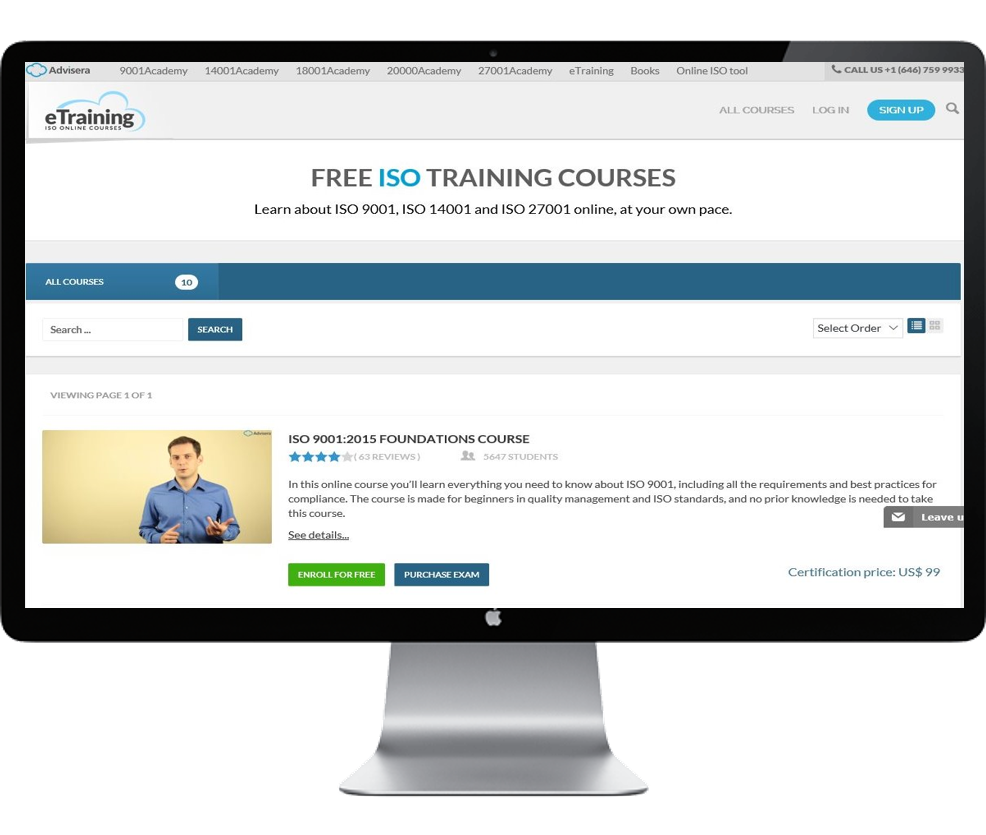 Case Study
Free ISO training courses.
Trainees/Students.
Indicates that the main clients will be professionals in area of various ISO standards.
Provision of knowledge of particular standard on various expert level (e.g. ISO 9001 Foundation, ISO 9001 Internal Auditor, ISO 9001 Lead Auditor using a MOOC format.
Define the level of engagement, interactivity, and accessibility.
Level of engagement is in the form of a MOOC including the following specific requirements:-
See the course for free (whole course)… review it and cannot see exam.
Self registration
pay for certification but course is free… gives them access the exam and certificate if they pass the exam
will have access to exam feedback and certificate after class is completed
Needs to be able to verify the identity prior to and during exam
language packs
mass email feature
uses Infusionsoft for their CRM (will need an api to do)
Uses Blue Snap for payment gateway
Add forums for Q&A
Ease of use for the student
Want some moderate customization features for the theme.
Nice to have badges but not necessary
Will want to stream video
GoToWebinar integration
certificate (trackable certificate)
exam
SCORM
Review of Commercial and non commercial Learning Management Systems
Review and research of Examination Proctoring Services
Identified typical LMS requirements,  all the 4 options suggested cover the standard and typical requirements of a Learning Management System, therefore are comparable in functionality.
Identifng the costings, three criteria were used:-
Set up cost
Monthly or student cost
Yearly Cost
Commercial LMS were more expensive than self-hosting (Moodle and WPLMS). However self hosting costs will increase with increasing numbers of students, mainly due to the requirements of using a semi-dedicated or dedicated server.
Identified the specific requirements requested by the client. There are strong compatibilities between the commercial and hosted LMS. The only and key variations are seen in the requirements for:-
InfusionSoft, were only WPLMS has the integration option without the need to design or create a plugin for an api.
Use of Blue Snap payment gateway was only available in the WPLMS.
All had comparability for GotoWebinar, however Moodle (Scholar LMS) doesn't have this options.
The greatest diversity from the requirement is the exam proctor(online monitoring of exams). Only one LMS has the ability to embed a Proctor directly in to the system this is Moodle(Scholar LMS). However all the LMS's would be capable of being monitored using ProctorU which is external to the LMS, but can monitor a student's computer indirectly and using a physical presence in the form of a proctor. The implications of this are the costs involved, this would need to be assessed prior to decision.
If ease of use and quick set is required I would suggest a commercial LMS, however be aware that there are limitations in that there is less flexibility and less integration with other software such as a CRM.
For flexibility/scalability and lower cost, a WordPress LMS or Moodle LMS would suffice, the drawbacks in terms of your requirements could be the set up time, which typically is about 4 weeks.
Innovative Alliance
Innovative Alliance
Innovative Alliance is the first step to helping our clients achieve their goals. Whether they are looking to enter the workplace, gain new knowledge or skills or overcome personal barriers, Innovative Alliance supports people aged 19 and over to take that first step towards a brighter future.
Client
Innovative Alliance
Service
Consultation, design development of Learning Management System and training provision
Platform
Moodle
ATN Training
ATN Training
Here at Assessor Training Nationwide, we offer fast-track train the trainer courses, including IQA awards and assessor training. We specialise in providing a wide range of higher education courses, from Level 2 train the trainer to Level 4 IQA courses. If you're looking for any kind of train the trainer course, our experienced team are here for you.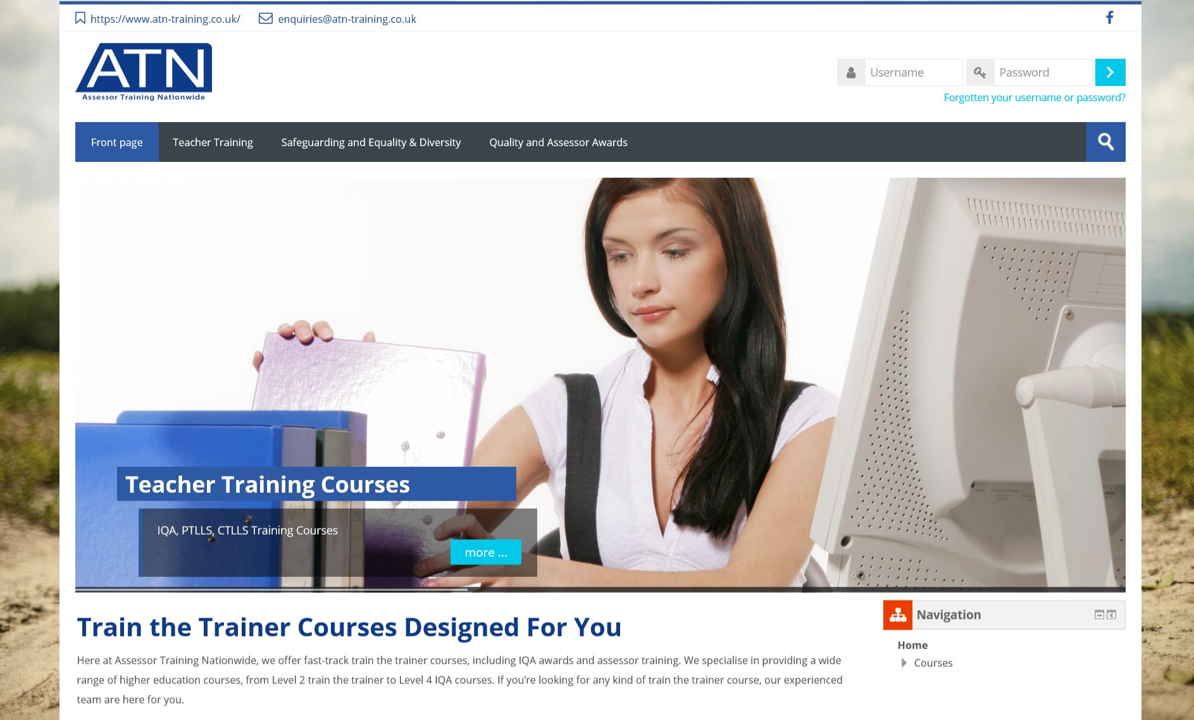 Client
ATN Training
Service
Consultation, design development of Learning Management System and training provision
Platform
Moodle
The Social Care Training Hub

Client
Social Care Training Hub
Services
Management and development of WordPress Learning Management Systems, bespoke to Social Care Training Hub  the UK number one provider of blended learning within Fostering, Children Home's, Early Years and Schools.
Platform
WPLMS (Bespoke Coding)
Educating UK
UK Open College
UK Open College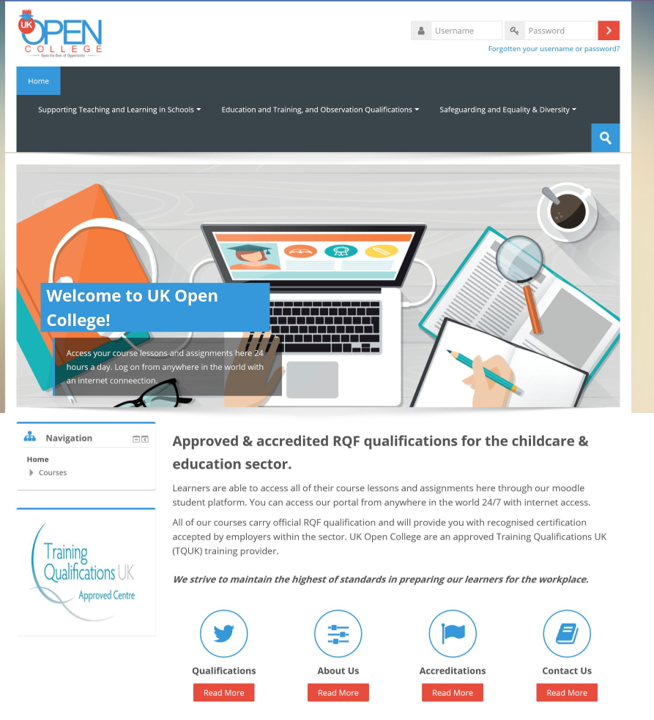 UK Open College – one of the most respected home study providers in the UK and abroad.  Centrally located within the UK to serve students on a national scale. Approved and accredited by various organisations and bodies to offer home study qualifications.
Client
UK Open College
Platform
Moodle 3.6
Elm Training Services (UK) Ltd
Innoventures Education
Innoventures Education
Innoventures Education was established in 2004 with the vision of providing world-class education to Dubai. Dubai International Academy opened in 2005 and within a few years it has been established as one of the premier international schools in Dubai.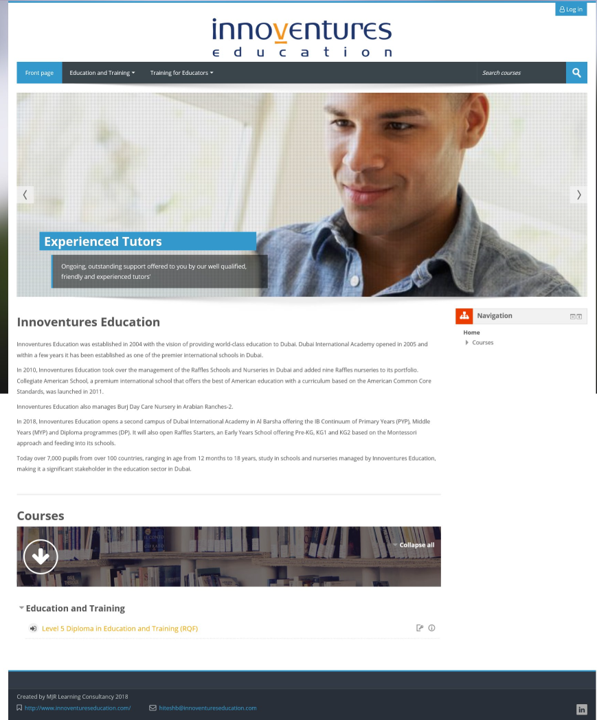 Client
Innoventures Education (Dubai)
Service
Consultation, design development of Learning Management System and training provision
Platform
Moodle
The Learning College
The Learning College

Client
The Learning College
Services
Moodle Learning Management System……Design, Development and Training support for Educational Training Provider, on going support.
Platform
Moodle LMS
Arts1 College, Moodle
Arts 1 School of Performance
Client
Arts1 School of Performance.
Services
Provision of ongoing consultancy and staff training
Platform
Moodle LMS
The New Focus College
Client
The New Focus College
Services
Moodle Learning Management System……Design, Development and Training support for Educational Training Provider, on going support.
Platform
Moodle LMS
Elite Training, Assessing and Development CIC, Moodle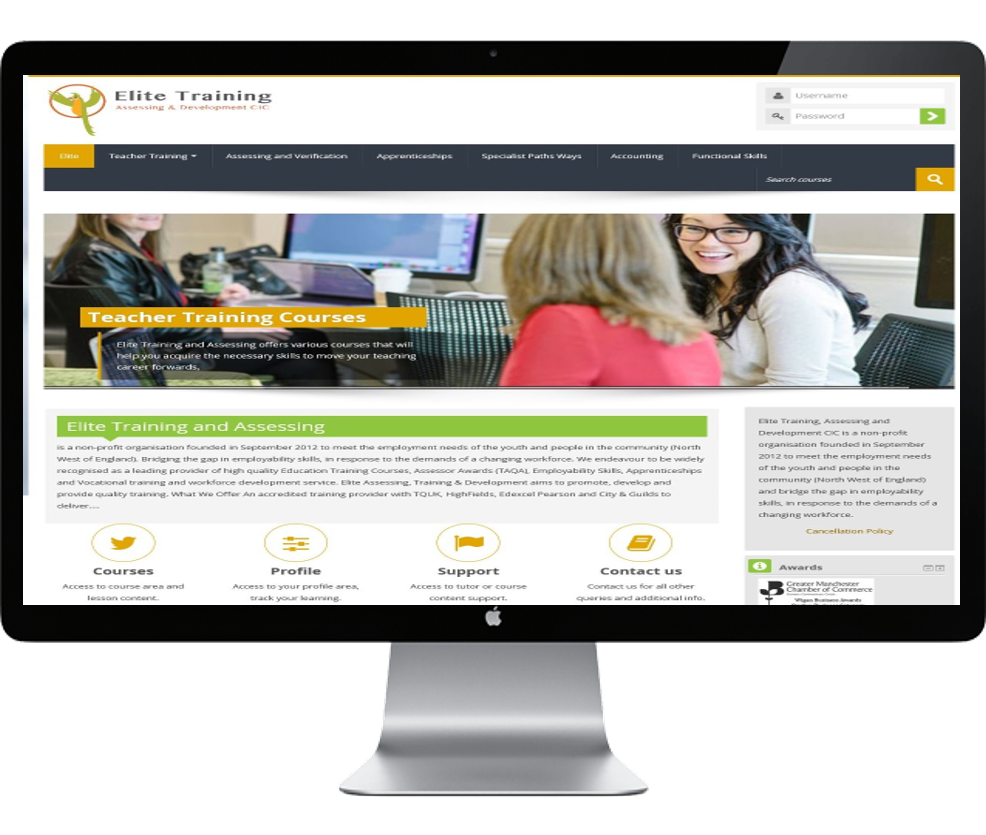 Client
Elite Training, Assessing and Developments CIC
Services
Creation and Administration of  e-learning site.
Main role:-Moodle Consultant, design content structure, administration and course population.
Platform
Moodle LMS
Results
Increase student numbers from 50 to 500 in three years, added progress tracking, completion checks and designed and populated over 12 courses related to Teacher Education from Level 3 Award in Education and Training to Level 5 Diploma In Education.
Barber Training Company, London
Client
Pall Mall Barbers
Services
Project management, design, development for Barber Training Company.
Creation of Learning and Training content, e-learning content creation.
Moodle implementation and technical advice OCR
Client
OCR
Services
Addition of course content, technical and development advice for OCR TiME Project "Training in Maths and English"
The blended and on-line delivery platform supporting training providers in delivering Maths and English to post-16 learners.
Platform
Moodle
Pixelixir, Vicotte, Moodle Demonstration Site
Client
Pixelixir
Services
Design, Development and Training support for Office 365 Training
Platform
Moodle Learning Management System.
United in Languages, Manchester
Client
United in Languages
Services
Consultancy advise and design, development of Moodle LMS.
Platform
Moodle LMS
CareerTrained, Moodle
Client
Career Trained
Services
E-Learning portal creation for CherryPick Ltd.
Platform
Testimonial:-
" Excellent to work with real supportive. recommended any time."